16 Jan

Precious Highlights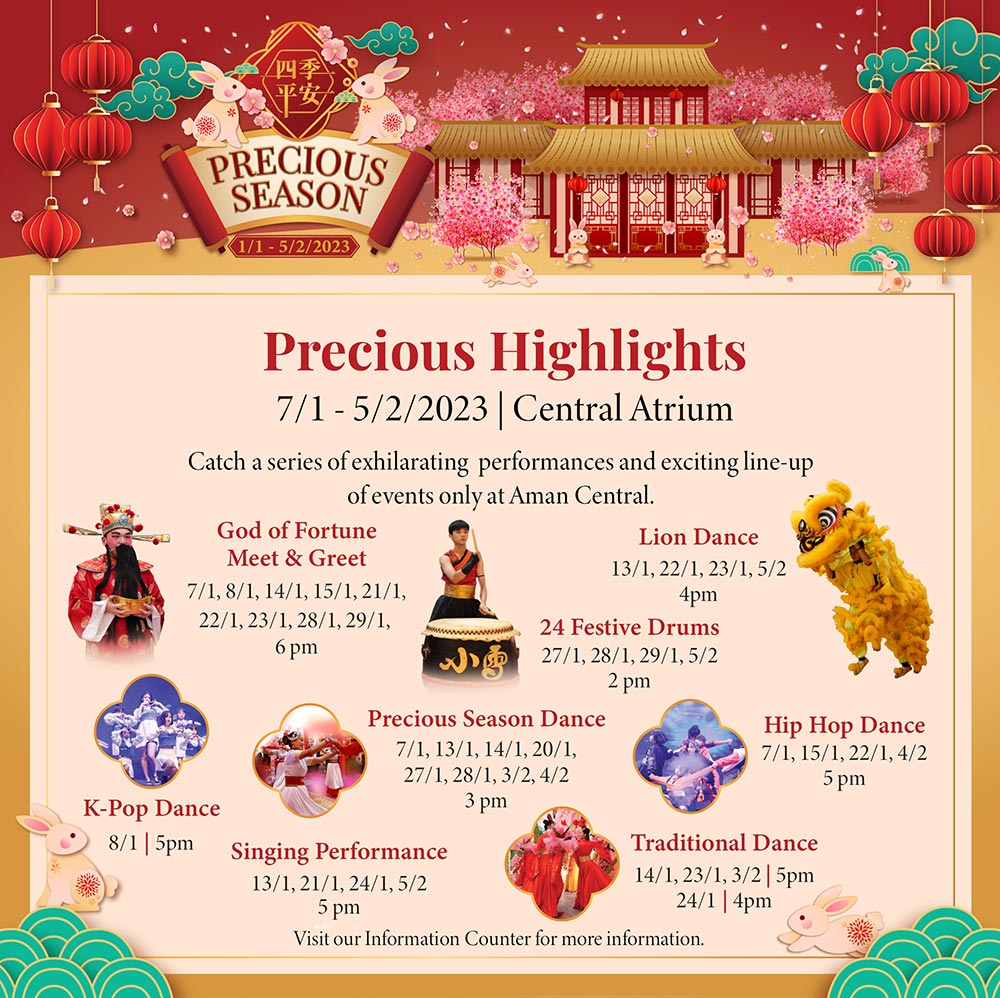 ALOR SETAR (6 January 2023) – As we gear up for the upcoming Lunar New Year – The Year of The Rabbit, Aman Central welcomes you with an abundance of exquisite rewards and offers, along with a rich array of performances from 7th January till 5th February 2023 themed "Precious Season".
Our Central Atrium has been refined with bright stunning red lanterns of various shapes and sizes accompanied by our auspicious decoration of golden giant tree with red lanterns, golden rabbit and fortune gold bar as the centerpiece display and a buildup red kingdom to usher in the Lunar New Year that symbolized proud and pure characteristic of a Rabbit. We are proud to transport you to many photo-worthy spots, awe-inspiring bridges besides epitomizing oriental beauty which promises shoppers a Precious Season during this new year.
Aman Central presents a grand main entrance decoration inspired by the celebration of Chinese culture with beautiful cherry blossom trees and the display of this year main character "The Rabbit" to greet shoppers with an abundance of success for 2023!
The auspicious Precious Season launch delighted mall shoppers and guests, who were greeted with a ceremonial welcome by prosperity lions and God of prosperity on 6th January 2023 marked a significant celebration of the New Year and welcome this year's CNY festivities with excitement and magnificent celebration for everyone. The ceremony was followed by a crowd-engaging drum performance – provided a thundering welcome to the guests, signifying an auspicious start to the festival.
The much-awaited celebration was attended by Guest of Honor, Yang Berhormat Dr. Robert Ling Kui Ee, Kedah State Executive Councilor for Housing, Environment, Unity, Chinese and Siamese Community Affairs – Belleview Group Chief Operating Officer of Retail & Commercial – Mr. Lawrence Teh, Director of Belleview Group – Ms Grace Ho; Marketing & Communications Senior Manager – Mr. Ken Chin, Operation Senior Manager of Aman Central – Mr. Yeoh Kim Bock, and, Senior Manager of Belleview Group Leasing – Mr. Brian Ho who launched the Precious Season as a symbol that the New Year has begun – an auspicious launch gimmick was carried out by tying a red bow to the giant GOLDEN Rabbits.
Mr. Lawrence Teh, Retail & Commercial Chief Operating Officer of Belleview Group said, "Despite the ongoing pandemic, Aman Central still maintain as the preferred premium shopping destination as the last month of 2022 we saw a significant growth in terms of footfall where it matched 90% of the shoppers count in December 2019. We have come a long way and will keep maintain the mall relevancy and strive to bring you a whole new shopping experience every day."
He added, Aman Central close the year with all wonderful new brands such as Lotus's, BONIA, Krispy Kreme, Street Churros, MiXue, ZUS Coffee, GIGI Coffee, DOME café, Secret Recipe just to name a few. There will be more to come by 2023.
Enjoy festive delicacies and must-have Chinese New Year delicacies, hampers, gifts and other goodies from our participating brands from Jin Ye Ye, Oloiya, Mew Market, to fashion with BENTOP, Azie Barakbah & Marshmallowscarf X Ozella, scents and perfume with Venteengros and beauty with Amy Beauty.
"Here wishing all of you a year filled with abundance, great success and prosperity. Stay safe and let us make this year a memorable one. Gong XI Fa Cai to all!" he added.
Rich array of performances waiting for you from 7th January till 5th February 2023 includes:
GOD OF FORTUNE MEET & GREET (6pm)
7, 8, 14, 15 21, 22, 23, 28 & 29 January 2023
LION DANCE (4pm)
13, 22, 23 January and 5 February 2023
24 FESTIVE DRUM (2pm)
27, 28, 29 January & 5 February 2023
PRECIOUS SEASON DANCE (3pm)
7, 13, 14, 20, 27, 28 January & 3, 4 February 2023
HIP HOP DANCE (5pm)
7, 15, 22, January & 4 February 2023
K-POP DANCE (5pm)
8 January 2023
SINGING PERFORMANCE (5pm)
13, 21, 24 January & 5 February 2023
TRADITIONAL DANCE (4pm)
14, 23 January & 3 February 2023