16 Jan

Lucky 7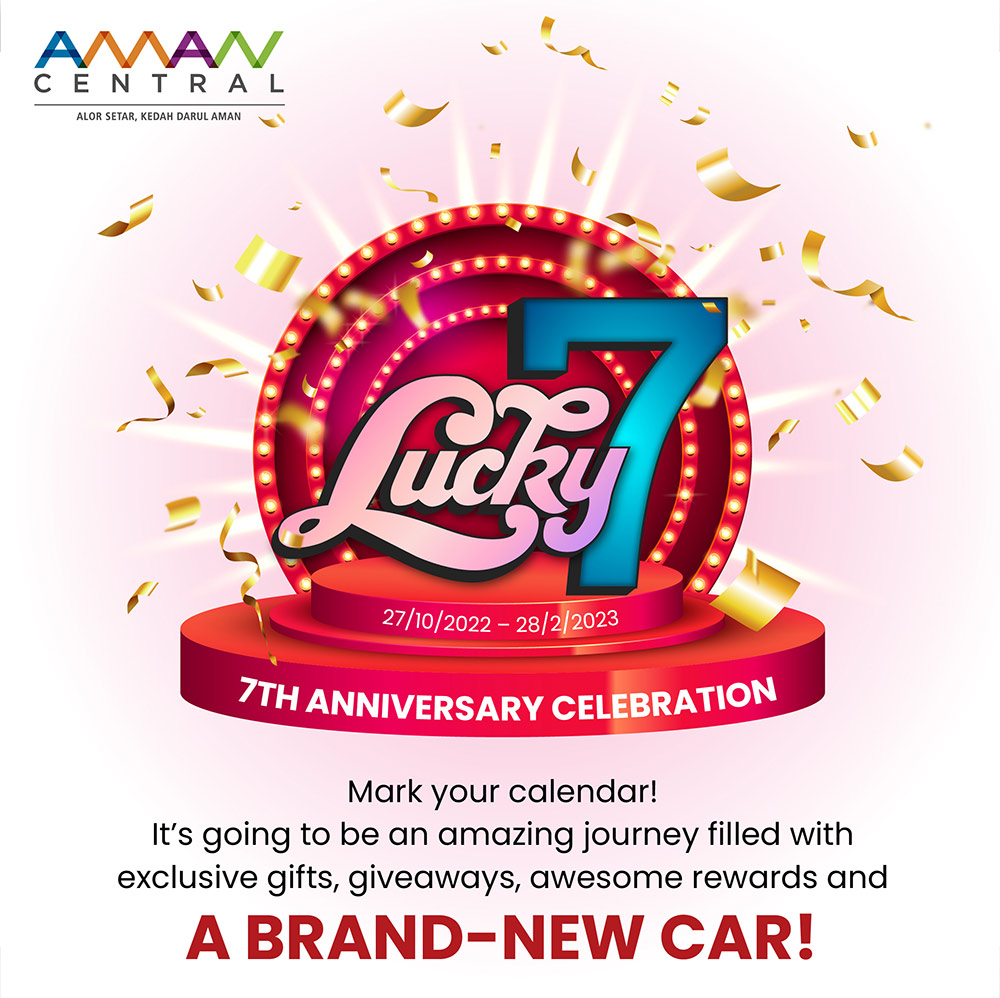 Aman Central Celebrates 7th Anniversary with "Lucky 7"
ALOR SETAR (28th October 2022) – Aman Central launches its 7th Year Anniversary campaign – Lucky 7 through digital initiatives and biggest prizes line up this year. With the country now in its endemic phase and year-end holidays approaching, Aman Central is gearing up to lure shoppers and travellers with attractive events, redemptions, and promotions in the pipeline. "It has been Aman Central's commitment to work hand in hand with retailers and home- grown brands on exciting marketing and promotion collaboration and constructive engagement, which aims to improve the local tourism. As the leading lifestyle shopping mall in the northern region, this is the best time to rewards our shoppers with the best prizes lined-up," said Aman Central Senior Manager of Marketing Communications, Ken Chin.
He added, "This 7-year Anniversary campaign titled 'Lucky 7' allows shoppers more chances to win the Grand Prize – a brand new car. The mall is generous to giveaway ONE (1) entry to every RM300 in maximum 2 combined receipts. Not only that, if you only spend RM150 in a single receipt you still be able to participate, just with a different twist of mechanics. For more information, please do visit out Concierge, Ground Floor."
The previous year's campaign entitled Fabulous 6 resulted in an overwhelming response and RM3.9mil spent throughout the entire campaign which ended on 27th February 2022. The celebration came to a fabulous end on 25th March 2022 with the naming of the grand-prize winner of a Red Mitsubishi Xpander Crossover vehicle for the 2021-2022 campaign.
"Like earlier years, this year Aman Central continue the generously stay with the previous year mechanics by maintaining a collective combination of receipts on any day during the whole campaign period to enjoy an entry form. This is part of our commitment to the society and a way of saying THANK YOU to our loyal shoppers. Not to forget to establish Landlord-Tenant relationship through ensuring our retailers are well taken care off."
Bringing more luck for shoppers to win, the mall introducing additional entry corner at their brand new al-fresco area at ground floor. At this corner, shoppers will only have to spend RM150 and above in a single receipt to entitle to ONE (1) entry. Shoppers may find out more at the display in between brand-new The Coffee Bean & Tea Leaf and Black Canyon.
Since the Lucky 7 is about acclaiming your luck, we will kick start the campaign with giving away limited-edition merchandises, the first 250 entries will receive a Limited-Edition merchandise and the next 100 entries to receive TWO (2) Exclusive Limited-Edition merchandise.
To keep the hype going, we are not only tripling the rewards for 5 lucky monthly winners, hence, we are going to give away Exclusive Prizes total worth up to RM15,000.00 to the lucky winners. All this going to happen by November 2022 as the first 5x lucky winner's batch.
The Lucky 7 draw will be conducted in 2023 once all forms are verified and the grand prize winner will bring home yet another BRAND NEW TRITON VGT AUTO PREMIUM! Whereas others will also get the chance to win fantastic prizes such as Premium Selection Of Jewelries from Habib Jewels, OSIM uThrone S x Marvel Iron Man Gaming Massage Massage Chair and Dream Humudifier, 18k White Gold Diamond Pendant with Neclace set from TOMEI, OTTIMO Motorcycle from CHJ Motors, AGift Products, Travel Luggage's, Peak Fitness Membership For 1 Year, ecoBrown's Premium Brown Rice Supply For A Year, Cerrutti Watches, High Culture full looks, fipper Products and many more! What are you waiting for, start to shop more for higher the chances of winning these exclusive prizes.
"As Landlord, we are always focus and keep maintaining the mall relevancy. We will have more new brands joining us this year including BONIA, Lotus's, Krispy Kreme, Street Churros, MiXue, Dulang Care, ZUS Coffee, GIGI Coffee, DOME café, Secret Receipe just to name a few for everyone to enjoy. Not to forget the recent opened tenants such as Swarovski, Teva, Steve Madden, Chatime, Urban Republic, Anta Sports, G-SHOCK, Muslimah Fashion including D'yana, Jemari, Qaira Hijab. Follow us on our social media for more updates."
A concurrent thematic program is in the pipeline to welcome our new family members. All these going to happen soon, around 1st Dec 2022. Shoppers will be greeted with plenty of instore promotions, discounts, redemptions, contests, and rewards while shopping with us!
Currently, Aman Central is holding a Diwali celebration 'Festival of Lights' (more details as per below). As we approach the end of the year, we welcome you to a sparkling luminour journey. As an award-winning mall, we strike to present an intriguing one-of-a-kind experience to our shoppers as we bring to you – a Star-Studded Christmas, igniting shimmer and splendor to everyone's lives.
"As 'the mall' for Kedah & Perlis people, we at Aman Central always keep up the mall relevancy from the looks, brands and even the running thematic campaign at the same par as all malls in Klang Valley"